Please join us tonight for our monthly board meeting at 6 pm. If you would like to address the Board, please call Kathy at (505) 847-2333 prior to the meeting to get on the agenda. Mountainair School Board is inviting you to a scheduled Zoom meeting. Topic: November Board Meeting Time: Nov 29, 2022 06:00 PM Mountain Time (US and Canada) Join Zoom Meeting
https://us06web.zoom.us/j/6037661691?pwd=RXNEWU9ZK2N5aDFxS3R3TTEza2dZdz09
Meeting ID: 603 766 1691 Passcode: Hv2Y6x One tap mobile +16694449171,,6037661691#,,,,*918831# US +16699006833,,6037661691#,,,,*918831# US (San Jose) Dial by your location +1 669 444 9171 US +1 669 900 6833 US (San Jose) +1 719 359 4580 US +1 253 205 0468 US +1 253 215 8782 US (Tacoma) +1 346 248 7799 US (Houston) +1 386 347 5053 US +1 507 473 4847 US +1 564 217 2000 US +1 646 931 3860 US +1 689 278 1000 US +1 929 205 6099 US (New York) +1 301 715 8592 US (Washington DC) +1 305 224 1968 US +1 309 205 3325 US +1 312 626 6799 US (Chicago) +1 360 209 5623 US Meeting ID: 603 766 1691 Passcode: 918831 Find your local number:
https://us06web.zoom.us/u/kmOx1M4z5

Happy Tuesday! This message is to inform you that we have a new phone system throughout the District. The phone number that everyone will have to use when trying to reach any of the school sites or Central office is (505)847-2333. Please update your contact information. Sorry for the confusion.

Good Afternoon, As part of our Safe Schools plan, tomorrow we will be practicing room by room lock down and fortification training. Routine practice is important so that kids' know what to do in case of an emergency, they can also ask questions, etc. Conducting our training will be a certified trainer that works for Poms & Associates. Our trainer is a retired APD officer that we use quite frequently to train staff. We will take great care while training our kids tomorrow. If you have questions, please call Ms. Apodaca (505)435-4941.

Good Morning! This Friday, November 18th is our first "Field Trip Friday!" In order to get to our destination, The Manuel Lujan Building, prior to the start of the event we will be leaving the campuses no later than 7:15. That means that if your child rides a bus to school, they will be picked up 30 minutes earlier! So if your normal pick up time is 7:10, you will be picked up at 6:40 on Friday. Please make sure that you are at your bus stop early. We will be back at school in time for everyone to be dismissed at normal time. If you have questions please call the sites.

Good Afternoon, just a few updates. There will be NO community pep assembly on Thursday evening. Instead it will be during 7th period tomorrow. Permission slips for next week's field trip are due by Monday, 11/14. Please turn these into the office. DOH will be here next Thursday 11/17 for flu shots. If you would like your child to receive a flu shot, have them pick up a form from the office and turn back into the office by Wednesday next week. If you have any questions, please call the office at (505)-847-2333 ext 1010 Thank you! Have a great day!

Join us tonight for our monthly Mental Health Series. Tonight's topic is: Grief: The Healing Process after Loss. We know that our community has suffered many losses, this is a great opportunity to get some support and remain anonymous. The link for tonight's session is
https://cookcenter.info/MtnairNov8
. Don't forget that through our relationship with Cook Center you have unlimited access to ParentGuidance.org and mylifeisworthliving.org. All you have to do is copy and paste any of the URL's into your browser to access these resources.


Good Afternoon!!! Here is the link for our State Championship Football Game! This game will be in Roswell at Gateway Christian School on Friday 11/11/22 at 7 pm. We also have a rooter bus sign up at the high school office, if interested in attending the game! Let's pack the stands and cheer our Mustangs on to Victory!!! Go Mustangs!!
https://gofan.co/app/events/774440?schoolId=NM72428

Come out and support your Mustang Basketball Teams on Thursday, November 17th at 6 pm in the Elementary Gym. See the attached flyer for more details.

Our Mustang Varsity Football Team is headed to State. The game will be played at Gateway Christian in Roswell on Friday, November 11th at 7pm. We will be taking a Rooter bus. If you want to hop aboard the bus please sign up at the HS if you can't walk in to sign up just call the office. The price will be determined by Wednesday and I will update this post. All State game tickets must be purchased on the GoFan website. If you have any questions, please call my office at 505-847-2333x3001. Let's show Roswell who the Mustangs are!

Tomorrow (Friday) 11/4/22 is the big day! Tomorrow night our Varsity Boy's Football is hosting Elida for the Semifinals. Kick off is at 7pm. If you are unable to join us, please use this link to watch the game on the NFHS network. We have a new camera that has been installed so I am hopeful there will be no viewing issues.
https://www.nfhsnetwork.com/schools/mountainair-high-school-mountainair-nm
Remember tickets must be purchased on the GoFans (
https://gofan.co/
) website not at the gate. Let's pack the stands.

Good Evening! Our Mustang Football Team will be playing the semi-final game against Elida here at home on Friday, Nov. 4th at 7pm! This is a big game!! We need you to help us pack the stadium!! This win will take our Mustangs into the finals in the State Championship Playoffs! Here is the link to purchase your tickets online. You can also purchase them through the GoFan app. If you do not purchase your tickets in advance, you may purchase them at the gate with a QR code. If you have any questions call 505-847-2333.
https://gofan.co/app/events/760814?schoolId=NMAA

Mountainair Public Schools, The Town of Mountainair and Torrance County DWI Prevention will be hosting a movie night this Saturday 10/29/22 at 6:30 pm. The Original Hocus Pocus will be showing. This is a FREE event to all. There will be a concession stand with snacks for sale. Children are welcome to wear their costumes! Come join us as we Drive In for some Halloween Fun!

Just a reminder that all tickets for the quarterfinal game, this Friday, must be purchased online. Here is a picture and the website to help you get your tickets!! Follow the directions on the image. We are so excited to host the 1st round of playoffs as our 9-0 Mustangs battle Roy/Mosquero to advance to the next round in the State Tournament! Come out and support our Mustangs!!! Let's Go Mustangs!!! We are Mustang Strong!!
https://gofan.co/app/events/750032?schoolId=NMAA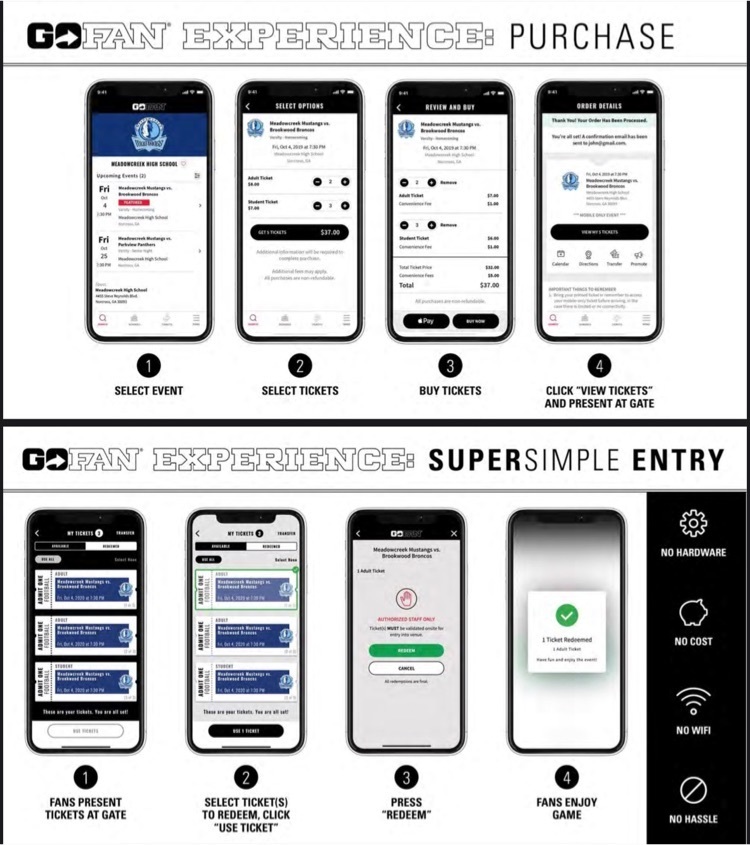 Good Morning! Here is the link for our Mustang Football Quarterfinal Game! Let's pack the stands!! There is also a GoFan app you can download for easy access to your tickets. If you have any questions call (505) 847-2333 ext 1010. Have a great day and Go Mustangs!!
https://gofan.co/app/events/750032?schoolId=NMAA

Our Mustangs have made it to the State Championship Tournament. We will be playing this Friday for the 1st round game here at HOME!! Come out and Support our Mustangs!! NMAA forbids any passes during playoff games. All spectators must have an electronic ticket for admissions into the game. (NO CASH SALES) • Adults $10.00 • Students (K-12)/Seniors (65+)/Military $5.00 NO PASSES for PLAYOFF GAMES! Tickets must be purchased at:
https://gofan.co/app/school/NMAA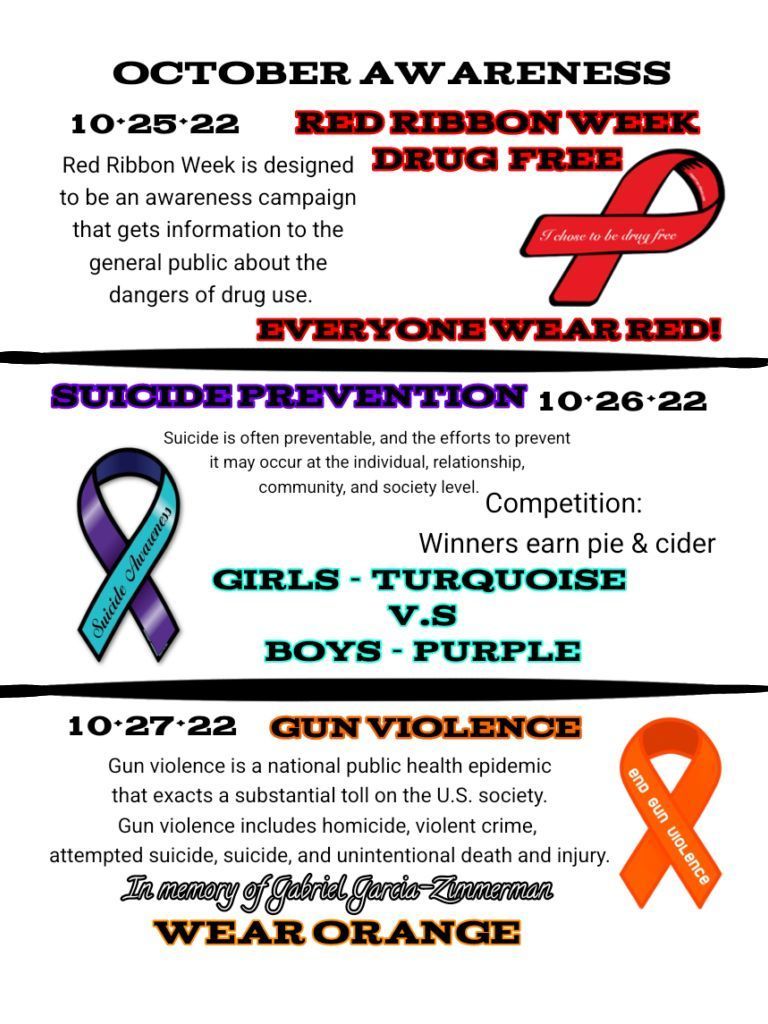 Good evening! Our football pink game is Friday!! Help us pink out the stands!!!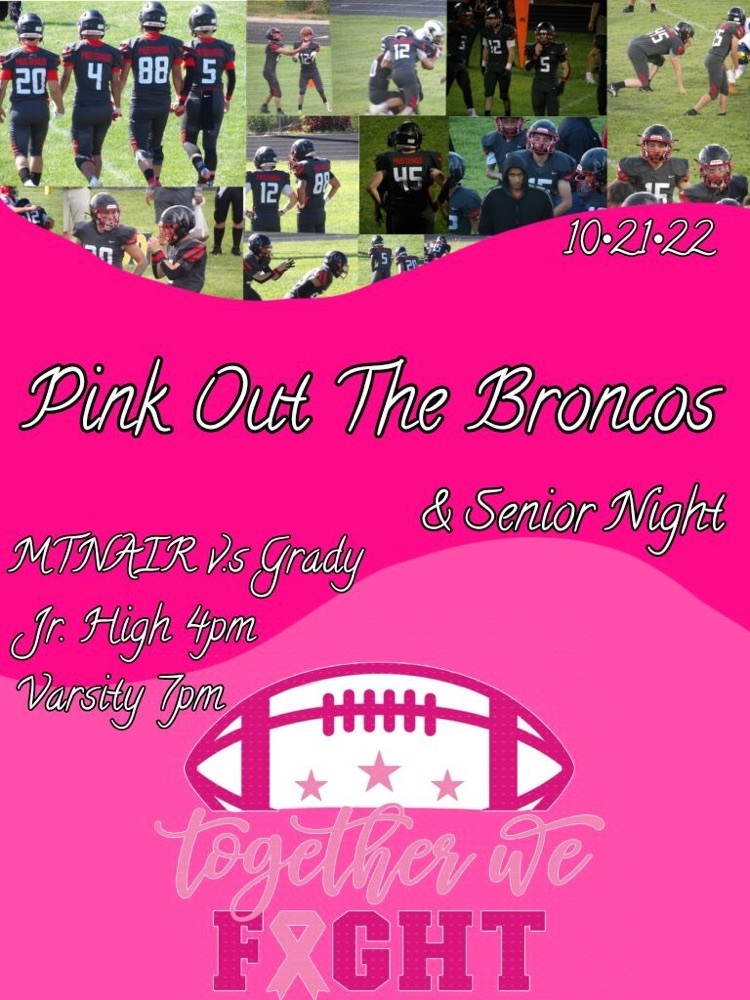 Here are our upcoming Awareness Days. 10/18/22 Pink Out Day 10/20/22 Class Competition Days Winning Class will get a Hot Chocolate/S'more Party. 6th/11th Grade Yellow 7th/10th Light Blue 8th/12th Red 9th Dark Blue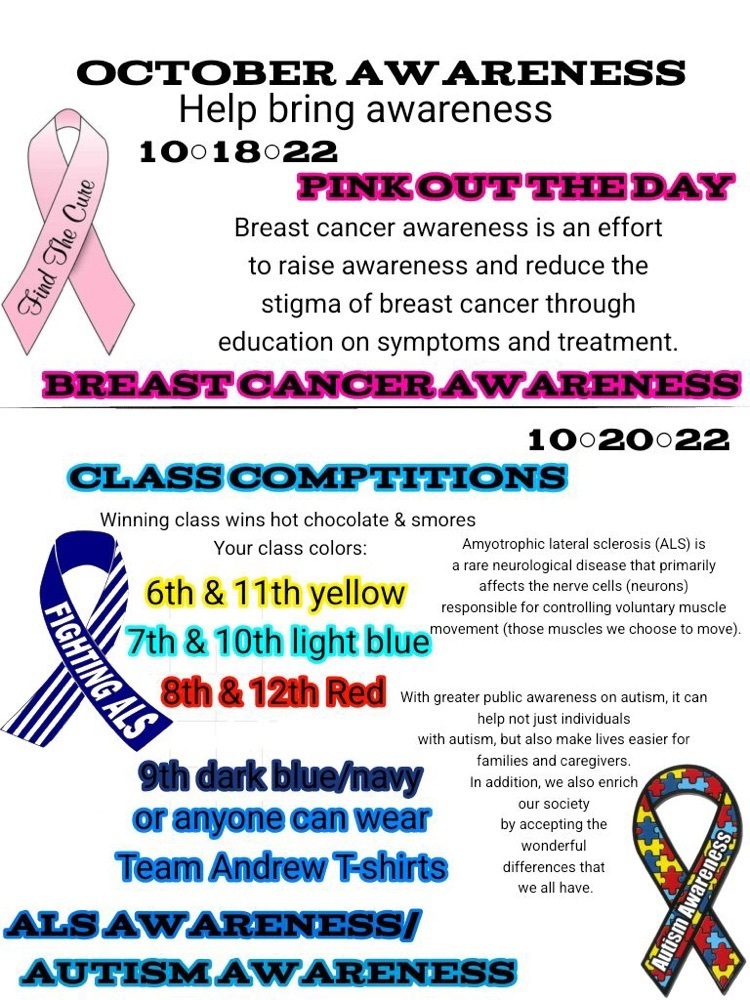 Good Evening. A memorial service will be held for Coach Stephen Bernal on Friday 10/14/22 at Mustang Stadium at 12:00 pm. Following the service, there will be a potluck lunch in the dome gym.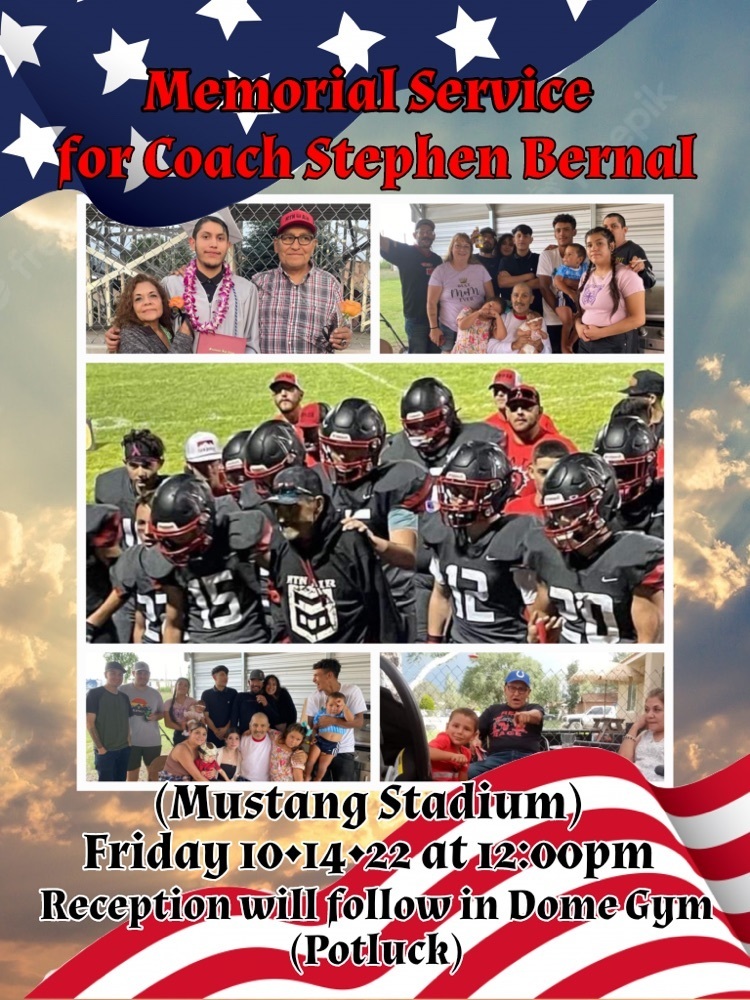 Tonight at 6pm we are hosting our monthly mental health series. Tonight's topic is BULLYING. Please join us tonight for invaluable information.
https://cookcenter.info/MtnairOct11