Please join us on Thursday, March 10th for the BREAKING THE SILENCE presentation. This presentation will be held at the Dr. Saul Building from 5:30-7:00. This presentation will answer questions regarding the upcoming classroom presentations for grades 4th through 12. Please come join us and enjoy light refreshments. The Breaking the Silence curriculum/discussions is to help breakdown the stigma associated with Mental Health. Hope to see you all on Thursday evening.

The junior class is doing a raffle for a Nintendo Switch! The tickets are $5, and the drawing will be March 24, 2022. Please see any class member of the junior class, Veronica Barela, or Kyle McGraw to purchase tickets.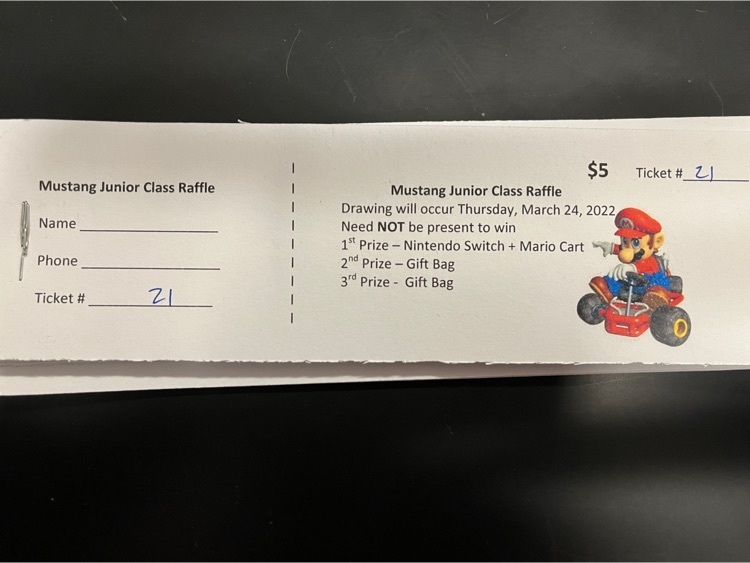 Mountainair Public Schools sends prayers and condolences to the Staff, students, families, and community of West Mesa High School. Today we stand strong for you, tomorrow we will stand strong with you! #wmhs

CORRECTION! Tonight's Board meeting is at 5pm!

Please join us tonight for our February Board Meeting at 6pm. If you would like to make a public comment please contact Kathy at 505-847-2333x3001 before 1 pm to get on the list. You may join us in person or via zoom. The agenda is attached. The meeting id is: 603 766 1691 Password: Hv2Y6x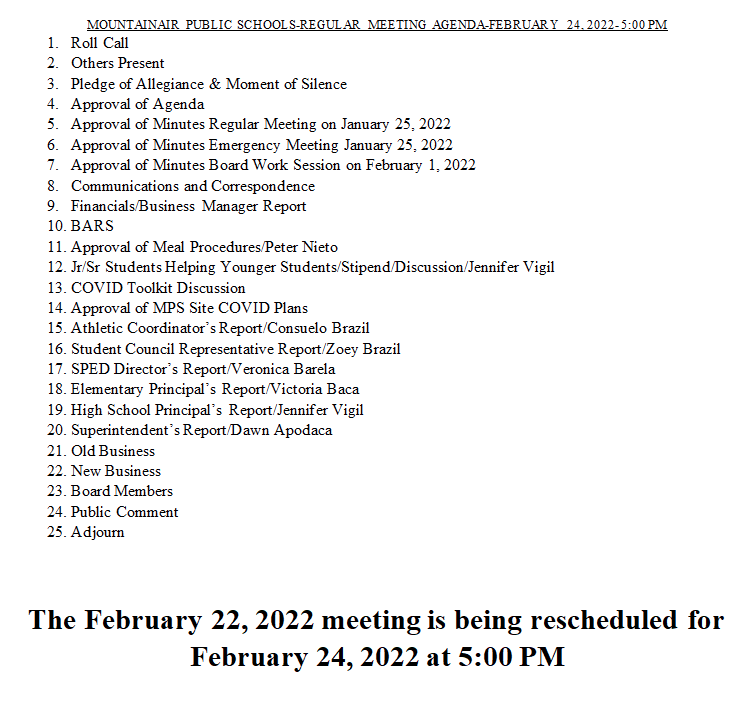 On Monday, our Varsity BB Girl's won the first round of the District Quarterfinals. Tonight they play AlamoNavajo in the 2nd round. Use the attached link to watch the game live.

The BPA students from Mountainair have represented our school well this year. The results of the State Business Professionals of America Conference in the top 10 in the state are as follows: 1. Lanah Rubi campaigned and was elected by the voting delegates to be the 2022-2023 State BPA Vice President of Community Relations 2. Josiah Martinez placed in the following: 1st place in C# Programming 1st place in Digital Marketing Concepts 2nd place in Computer Programming Concepts 7th place in Information Technology Concepts 3. Aaliyah Roybal 4th place in Prepared Speech 4. Janelle Potts 4th place in Parliamentary Procedure Concepts 7th place in Management, Marketing, & Human Resources Concepts 5. Ashley Varela 6th place in Parliamentary Procedure Concepts 6. Adora Overholser 7th place in Digital Communication & Design Concepts 9th place in Information Technology Concepts 7. Anna Everett 7th place in Medical Terminology Concepts 8. Zoey Brown 9th place in Medical Terminology Concepts 9. Lanah Rubi and Emily Turner 8th place in Podcast Production Team

Let's give a huge congratulations to our new State BPA Vice President of Community Relations Lanah Rubi!!! Words cannot explain how excited we are to have a Mustang as a state officer. We know you will do great things. Again, Congratulations Lanah! 🥳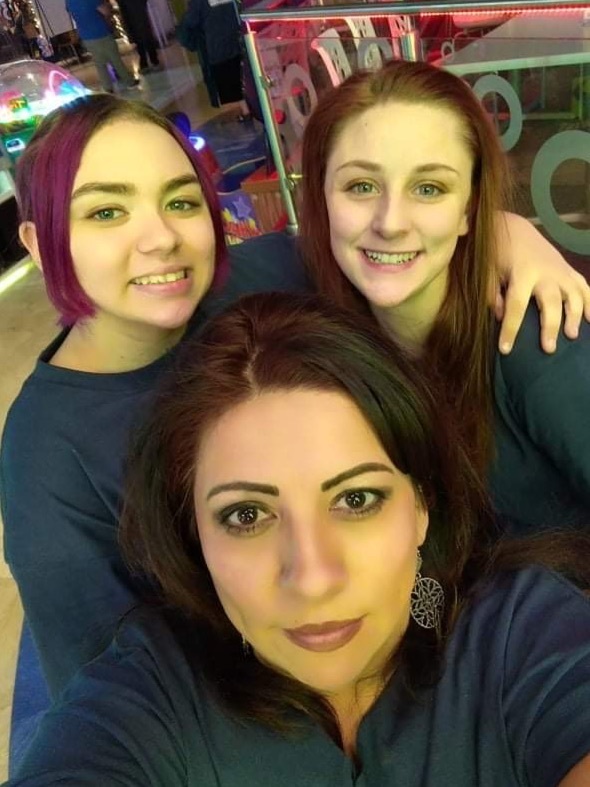 Today concluded the 2021-2022 Business Professionals of America State Leadership Conference. Beyond proud of how far each and every single student has came. 🏅#iamnmctso #risenmbpa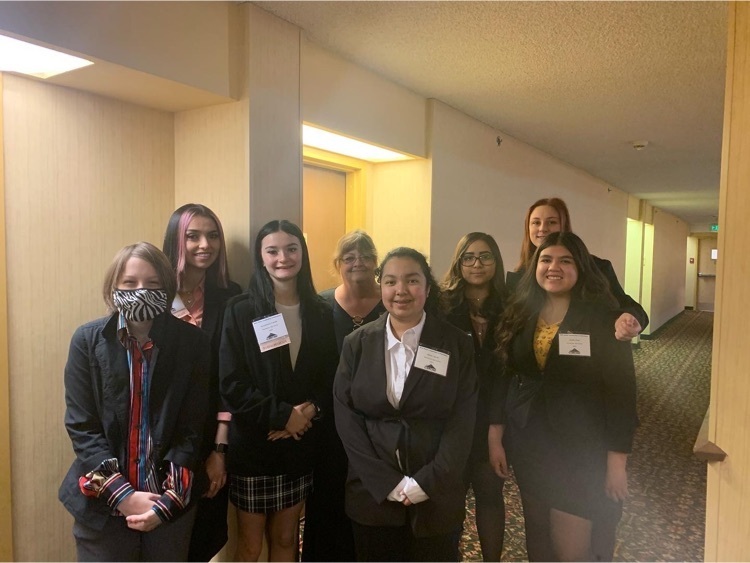 Yesterday was voting day for our 2022-2023 New Mexico State Executive council. We are proud to call one of our own, Lanah Rubi a candidate. We can't wait to see how far you will go! ❤️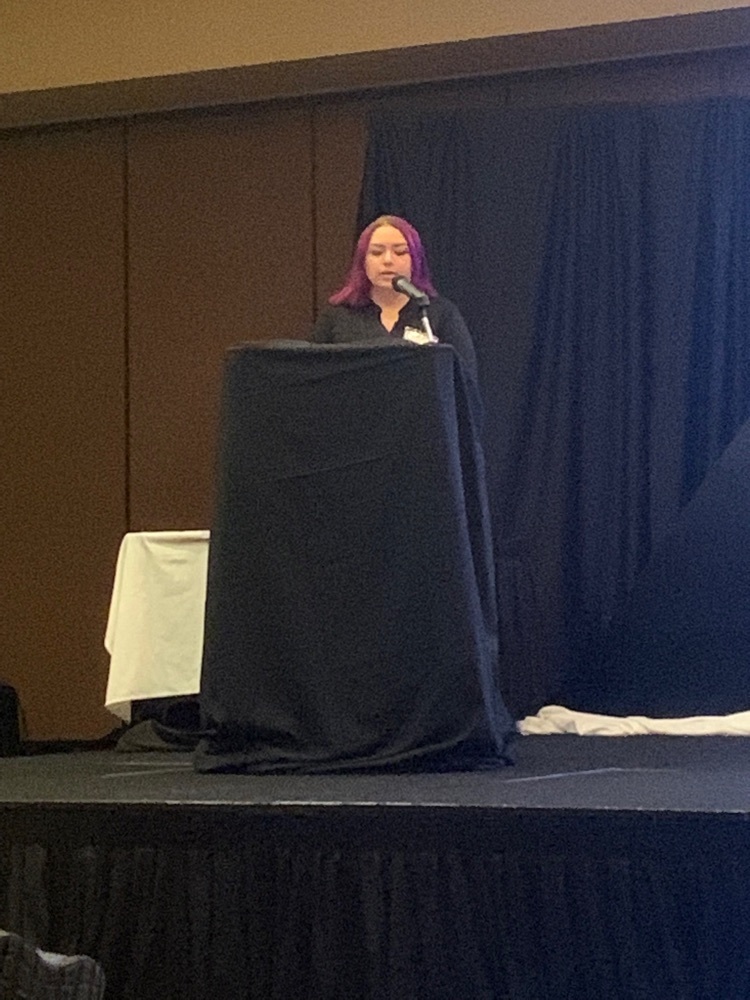 Good Afternoon! This is Ms Apodaca. Many of you may have heard the Governor's announcement today. So in response, effective immediately, masks will be optional in all Mountainair buildings. I am expecting guidance from the PED with regard to testing. I will let you know as soon as I receive that information!

Due to the continued snowfall, school will be CLOSED today. Be safe and stay warm.

It's that time a year again, CALENDAR TIME! If you are interested in being part of the District's calendar committee, please let me know via text. We will be meeting on February 24th at 4:00 at the MPS Board Room or MHS library depending on the number of people interested. I look forward to hearing from you. Superintendent Apodaca: 505-677-5213 (new school number)

This is an update on the Valentine's fundraiser that is being run by the BPA. We are postponing the raffle drawing until Monday, February 14th, where we will be drawing the tickets at 11am. The baskets will be available that day to those who won the raffle so that they can give it to their special valentine.

I am SO excited to announce the launch of the new Mountainair Public Schools App. That's right an APP. Go to your app store and download the Mountainair Public Schools app. This app will provide daily updates with an updated lunch menu, athletics calendar and current events in the district. It will also give you direct access to district documents. Go to your app store and download it today.

Good Afternoon, in preparation of the snow storm that is predicted to start tonight and continue until noon on Thursday and dump 6-8" on Mountainair. I have made the decision to cancel school tomorrow and Thursday. These days will not have to be made up due to the time built up with the additional 30 minutes a day we have been banking. Stay safe and warm. Temperatures are supposed to drop to negative 3 degrees!

If anyone missed out on the chance to get a yearbook for the 2019-2020 year or the 2020-2021 year, we have a few more still for sale at $40 each! Just contact the high school office or Linda Modgling at
linda.modgling@mpschools.net
if you would like to get a copy. Get one before they disappear!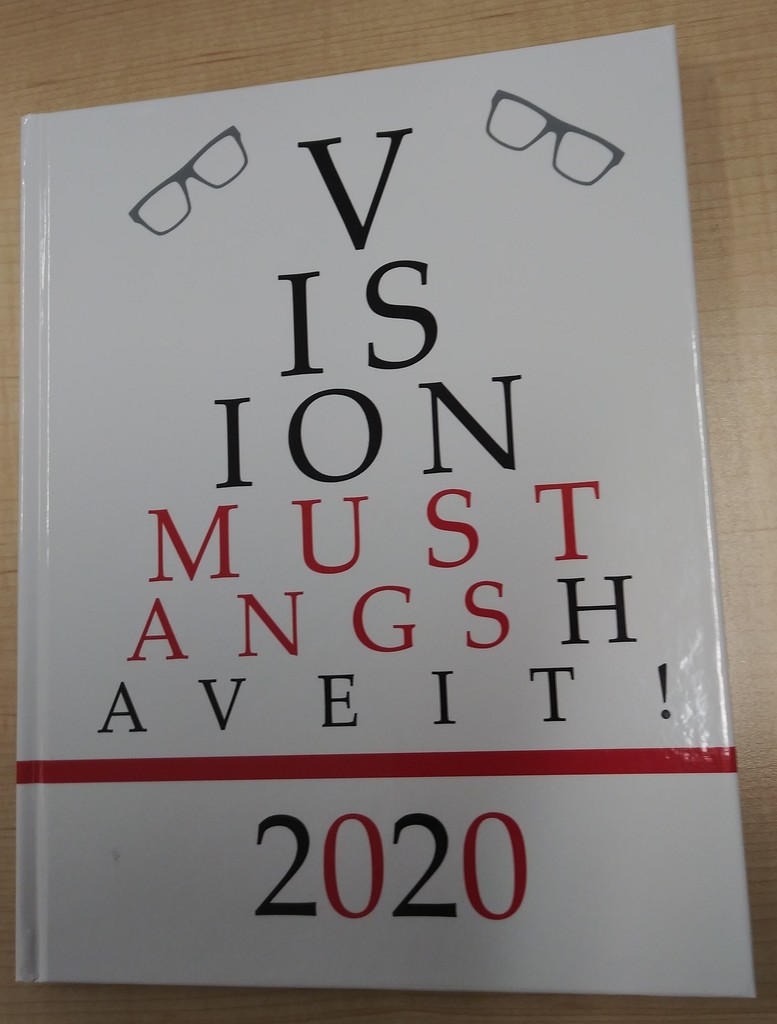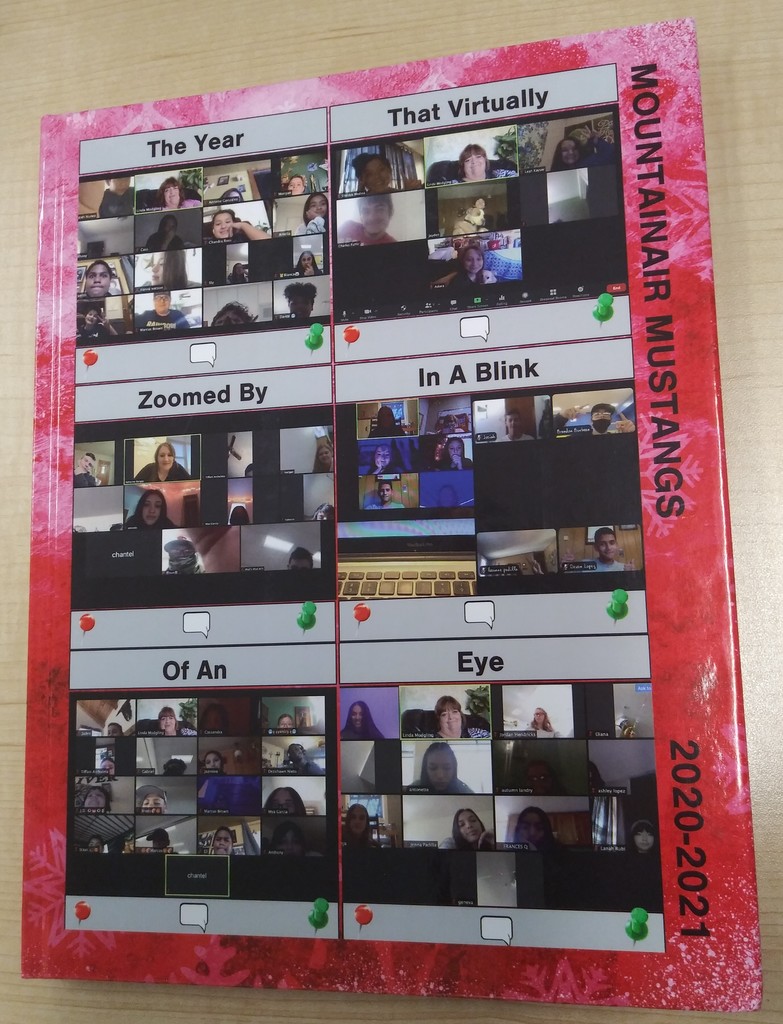 The Mountainair BPA organization is hosting a community wide Valentine's Day raffle. The raffle consists of Valentine's Day baskets with a whole bunch of goodies. Please see a BPA member or Mrs. Linda Modgling to purchase your tickets for only $1 per ticket or you can come by Mountainair High School to purchase them as well! The raffle will be held Feb 11th.

Dear Parents and Guardians of the 2022 Senior class, Our yearbook staff is providing two yearbook pages per senior for free. A third page is optional for and additional $50. Our yearbook staff has been attempting to reach your seniors, but have not had much response. So we are reaching out to you. We need baby and/or young photos, senior pictures, their senior quote, and a letter from you. The deadline for your senior to have their own pages in the yearbook is February 28, 2022. If you need more information, contact Linda Modgling at;
linda.modgling@mpschools.net
or call her at (505)847-2333