Welcome Back to the 2022-2023 School Year! Mountainair Elementary School's Open House is Thursday, August 11 from 5:30-7:00. Please bring your child's supplies and meet their teacher. Also, all registration packets need to be completed and turned in prior to the first day of school.

Just a reminder that MMS and MHS are holding registrations Tuesday through Wednesday from 8 am to 5 pm. If you can not make these days please contact the office at 505-847-2333 ext 1010 to make arrangements. Attached is also a copy of the updated school supplies list. Thank you and have a great evening.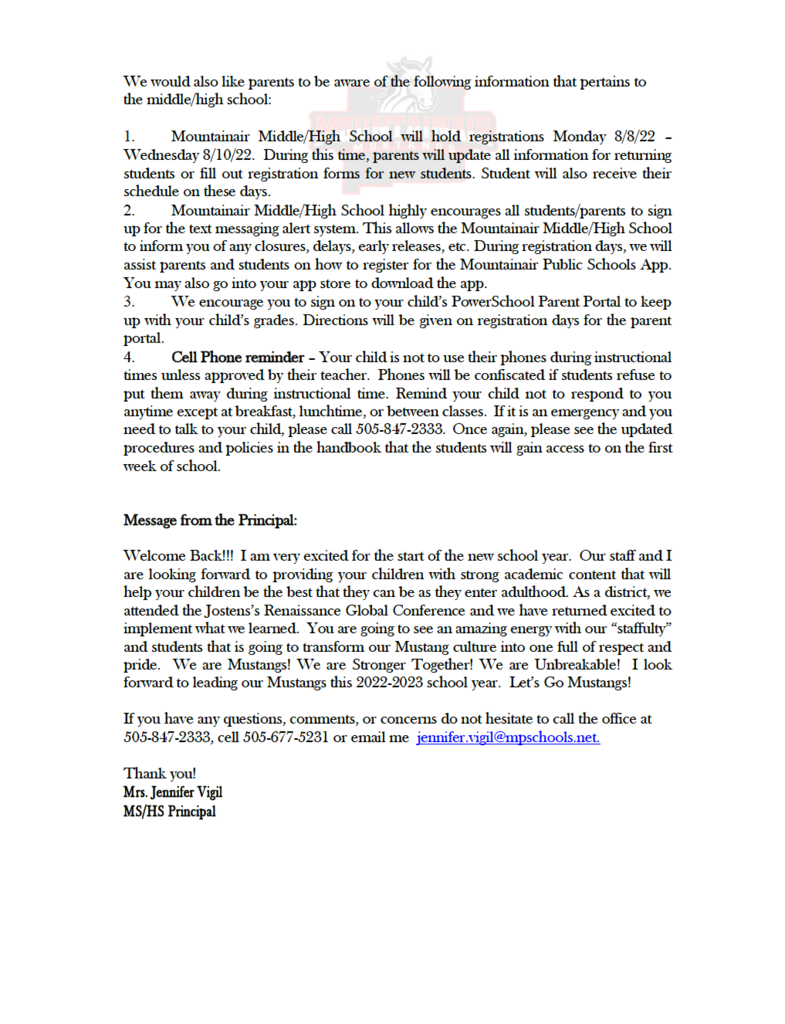 Good Day Mustang Middle and High School Families. Attached is our school supplies list and other information as we return to school. We are excited and look forward to our new school year. -Mrs. Vigil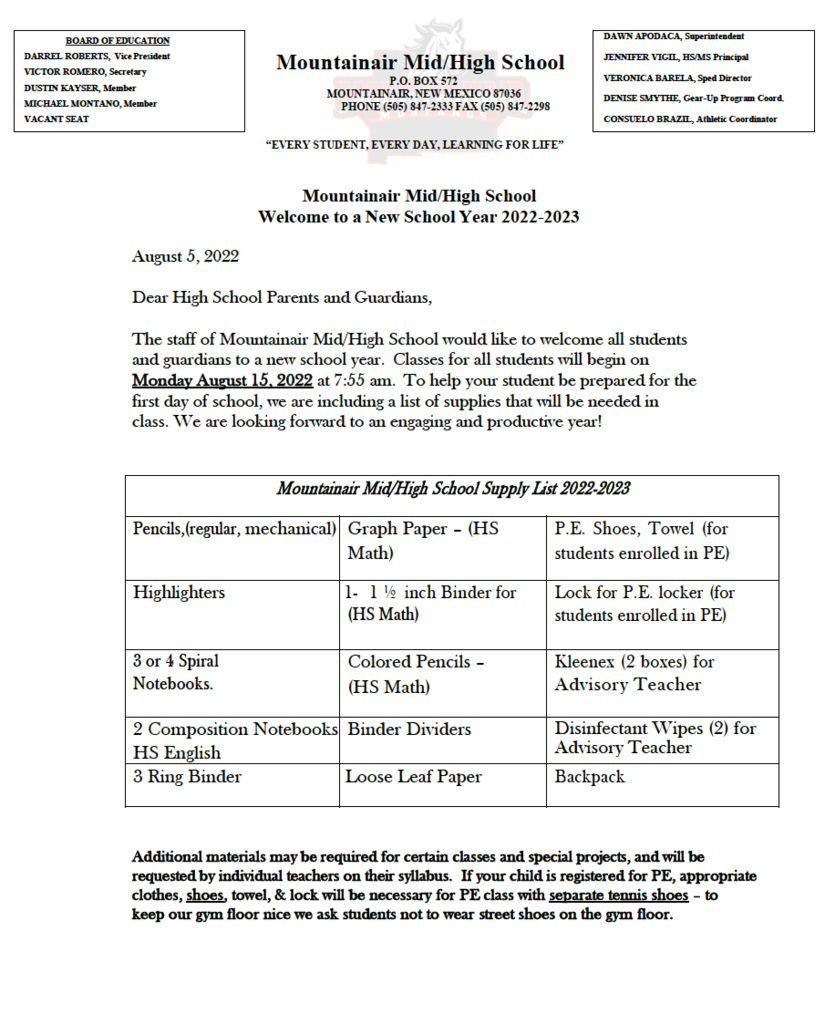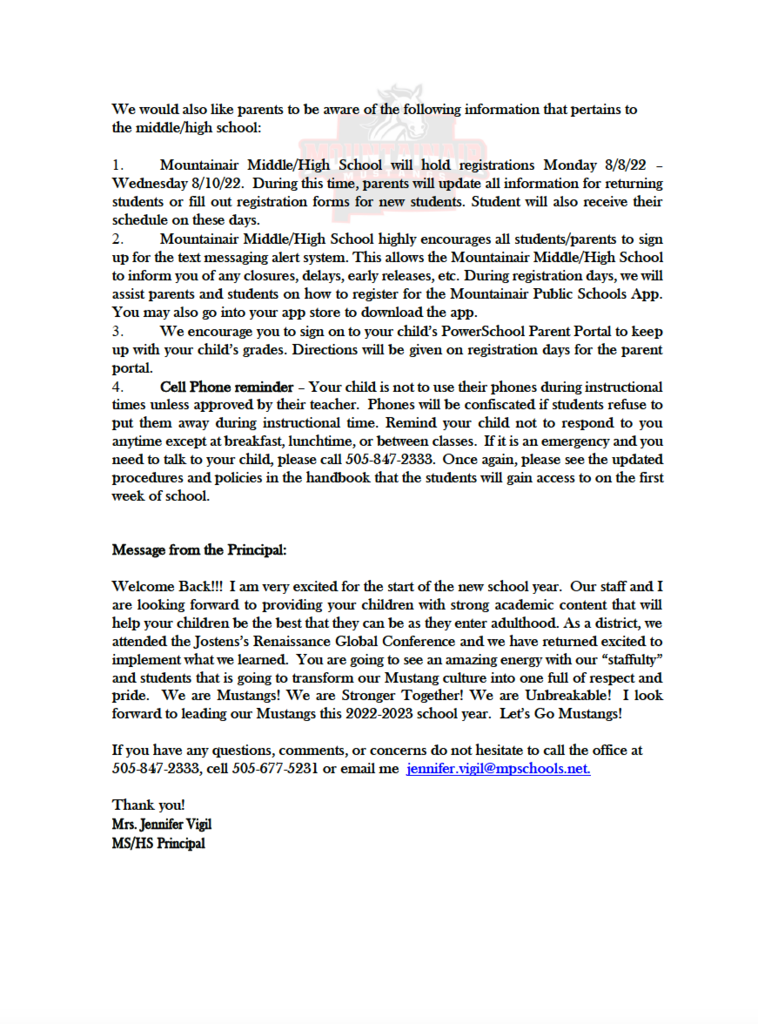 Good Evening! In the morning we will meet at the HS library for breakfast at 7:30 and then the Business Mgr meeting starting at 8:00 am. I will start at 10! See you in the morning!

Hope you all are enjoying your last day of vacation. I can't believe how fast it went. Tomorrow we are meeting at the HS library. Breakfast will begin at 7:30 and the meeting will begin promptly at 8:00. If you went to Renaissance just remember to wear your come together shirt. See you all in the morning! It's going to be an AMAZING year!

If you are riding the bus in the morning. The bus will leave the high school at 3:30. I will meet you at the airport at 5am! I am sooo excited!

Hope you are enjoying and reading the books that were sent to you! Reading every day helps children retain and improve their hard-gained reading skills. The average child loses two months of reading progress over the summer. Stop the slide! Keep kids reading all summer!

We are just half way through summer, are you and your kids still getting along? Are they driving you crazy yet? We can help! Join us tonight for De-escalating Cycles of Conflict For registration, please go to
www.mountainairpublicschools.net
then to Parent Guidance and hover your phone camera over the QR code to register. Your registration and participation is anonymous. 6:00PM - 7:00PM

Good Morning Mustangs! Please join us tomorrow for the 2nd swim trip to the Estancia Pool. Please open and complete the attached form. All the information is on the attached form that you need to make a successful trip!
https://form.jotform.com/221803689541157

The Torrance County DWI Prevention Program is hosting: MIDDLE SCHOOL/HIGH SCHOOL NIGHT! This Friday, TODAY, July 8, 2022, from 6-8pm at the Estancia Swimming Pool. This is an alcohol-free, drug-free, FREE event! Limited concessions will be available for purchase. Please bring small bills. Please join us!

Welcome to the Mustang family Ms Alora McCurdy! Well she's not that little 9lbs 1 oz 21" long! Momma and baby are doing great!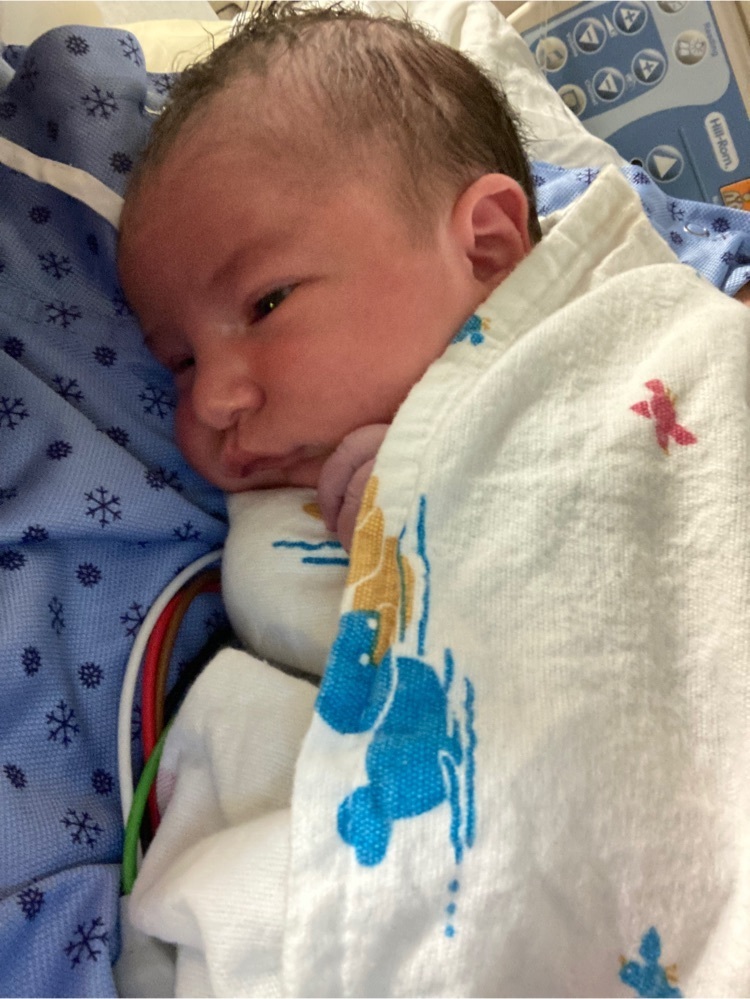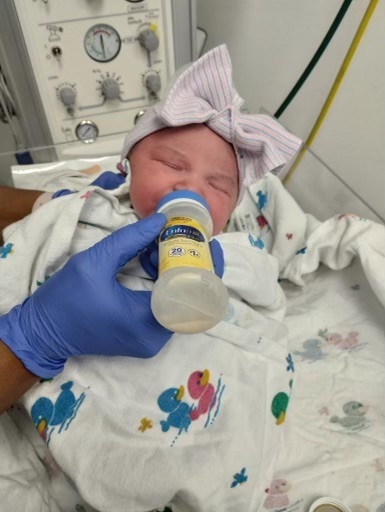 Yesterday, sadly we lost one of the most dedicated and beloved members of our Mustang family, Mr Ernest Rubi. Mr Rubi since his retirement from BNSF, has been a sub custodian in the District. Mr Rubi was so much more than an employee, he was one of the family. Mr Rubi was always asking how he could help, volunteering for anything that came up and most importantly he was dependable. I don't know how, but he always seemed to show up at just the right time. You always knew when he was in the building because you could hear that infectious laugh throughout the hallways. Mr Rubi, your presence, laughter and dedication that you shared as a member of this Mustang family will be greatly missed but vividly remembered!

Mountainair Public Schools and Town of Mountainair are pleased to announce our first of the summer, "Swimming Field Trip to Estancia Pools." Please read the attached message and complete the attached form. I would like to send a HUGE Thank you to our sponsors who through their generous donations are making these summer swim trips FREE to anyone who lives in the Mountainair Public Schools District! The Town of Mountainair, Mountainair Public Schools, MONTA and our AMAZING SPONSORS are coming together to provide you with fun at the Estancia Swimming Pool. We are taking our first trip on Tuesday, June 28th. If you are wanting to go, please complete the form ASAP. In order for us to have enough summer lunch meals, please complete by Wednesday, June 22, 2022 at noon. You can complete this form and still go on the trip if you sign up before Monday, June 27, 2022 at 3:00 p.m.; however, summer lunch is not guaranteed. Entrance fee to pool is covered for residents within the Mountainair School District that are registered and entering at same time we do (approximately 12:45 am) Travel is limited on a first-come/first serve basis until bus is full. We will contact you by phone if you sign up after the bus limit has been reached. If you choose to travel on your own to the pool, your entrance fee will be covered only if you are pre-registered. Please complete the link below to sign up to go!
https://form.jotform.com/221705860216047


Summer has just began, have your kids been buried in their devices on social media? How do we limit their time on social media? How do we keep them safe while they are on social media? Join us tonight for our monthly Cook Center for Human Connection Meeting. Click on the link below and register for the event. Remember your participation and registration is anonymous. Please join us TONIGHT June 14th from 6-7pm via Zoom, to learn practical solutions to effectively manage your child's technology use and ways to protect your child! Register here for the event:
https://cookcenter.info/MtnairJune14

Mustang Families, report cards are ready for pick up for middle school and high school students at the high school office today, June 1st and tomorrow, June 2nd from 7 am to 3:30 pm. Also, if your student will be participating in athletics for the 2022-2023 school year, physical packets are ready to pick up. Physicals must be dated after April 1, 2022 to be accepted for the 22-23 school year. If you have any questions please call our office at 505-847-2333 ext 1010.

Good Morning! Happy 1st day of summer break. Today begins our summer food program, we have 2 serving times, one breakfast and one lunch. See the attached schedule for your location and times.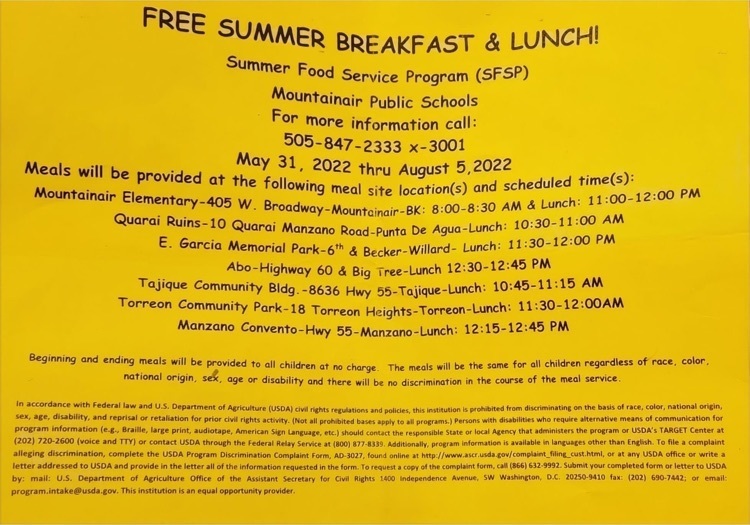 To all that bought a yearbook this year please know that Josten's had told us because of scheduling and Covid issues , the only date we could submit the yearbook for publishing was June 3rd with July 15th as the delivery date. They promise to be back and totally on schedule for the next year. The good thing is that this year's track pictures, prom pictures, and lots of graduation pictures will be in this yearbook. All who bought a yearbook will be contacted when the books come in. Thank you for supporting the Mustangs!

Good Evening MMS and MHS Families, Just a reminder that tomorrow is our field day. Students, come prepared to play in water! Let's have some Old-Fashioned Mustang Fun!!

Don't miss our end of the year events! Stay up-to-date by simply downloading our Mountainair Public Schools app from your app store. It has everything you need to know and more. Stay in the know.