Join us tonight for our monthly Mental Health Series. Tonight's topic is: Grief: The Healing Process after Loss. We know that our community has suffered many losses, this is a great opportunity to get some support and remain anonymous. The link for tonight's session is
https://cookcenter.info/MtnairNov8
. Don't forget that through our relationship with Cook Center you have unlimited access to ParentGuidance.org and mylifeisworthliving.org. All you have to do is copy and paste any of the URL's into your browser to access these resources.


Good Afternoon!!! Here is the link for our State Championship Football Game! This game will be in Roswell at Gateway Christian School on Friday 11/11/22 at 7 pm. We also have a rooter bus sign up at the high school office, if interested in attending the game! Let's pack the stands and cheer our Mustangs on to Victory!!! Go Mustangs!!
https://gofan.co/app/events/774440?schoolId=NM72428

Come out and support your Mustang Basketball Teams on Thursday, November 17th at 6 pm in the Elementary Gym. See the attached flyer for more details.

Our Mustang Varsity Football Team is headed to State. The game will be played at Gateway Christian in Roswell on Friday, November 11th at 7pm. We will be taking a Rooter bus. If you want to hop aboard the bus please sign up at the HS if you can't walk in to sign up just call the office. The price will be determined by Wednesday and I will update this post. All State game tickets must be purchased on the GoFan website. If you have any questions, please call my office at 505-847-2333x3001. Let's show Roswell who the Mustangs are!

Tomorrow (Friday) 11/4/22 is the big day! Tomorrow night our Varsity Boy's Football is hosting Elida for the Semifinals. Kick off is at 7pm. If you are unable to join us, please use this link to watch the game on the NFHS network. We have a new camera that has been installed so I am hopeful there will be no viewing issues.
https://www.nfhsnetwork.com/schools/mountainair-high-school-mountainair-nm
Remember tickets must be purchased on the GoFans (
https://gofan.co/
) website not at the gate. Let's pack the stands.

Good Evening! Our Mustang Football Team will be playing the semi-final game against Elida here at home on Friday, Nov. 4th at 7pm! This is a big game!! We need you to help us pack the stadium!! This win will take our Mustangs into the finals in the State Championship Playoffs! Here is the link to purchase your tickets online. You can also purchase them through the GoFan app. If you do not purchase your tickets in advance, you may purchase them at the gate with a QR code. If you have any questions call 505-847-2333.
https://gofan.co/app/events/760814?schoolId=NMAA

Mountainair Public Schools, The Town of Mountainair and Torrance County DWI Prevention will be hosting a movie night this Saturday 10/29/22 at 6:30 pm. The Original Hocus Pocus will be showing. This is a FREE event to all. There will be a concession stand with snacks for sale. Children are welcome to wear their costumes! Come join us as we Drive In for some Halloween Fun!

Just a reminder that all tickets for the quarterfinal game, this Friday, must be purchased online. Here is a picture and the website to help you get your tickets!! Follow the directions on the image. We are so excited to host the 1st round of playoffs as our 9-0 Mustangs battle Roy/Mosquero to advance to the next round in the State Tournament! Come out and support our Mustangs!!! Let's Go Mustangs!!! We are Mustang Strong!!
https://gofan.co/app/events/750032?schoolId=NMAA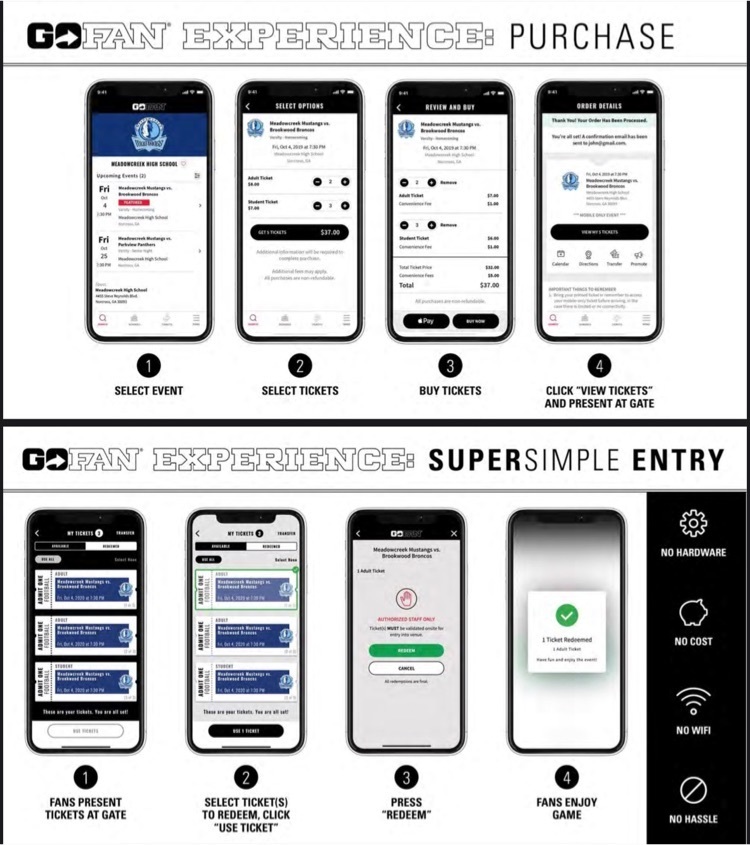 Good Morning! Here is the link for our Mustang Football Quarterfinal Game! Let's pack the stands!! There is also a GoFan app you can download for easy access to your tickets. If you have any questions call (505) 847-2333 ext 1010. Have a great day and Go Mustangs!!
https://gofan.co/app/events/750032?schoolId=NMAA

Our Mustangs have made it to the State Championship Tournament. We will be playing this Friday for the 1st round game here at HOME!! Come out and Support our Mustangs!! NMAA forbids any passes during playoff games. All spectators must have an electronic ticket for admissions into the game. (NO CASH SALES) • Adults $10.00 • Students (K-12)/Seniors (65+)/Military $5.00 NO PASSES for PLAYOFF GAMES! Tickets must be purchased at:
https://gofan.co/app/school/NMAA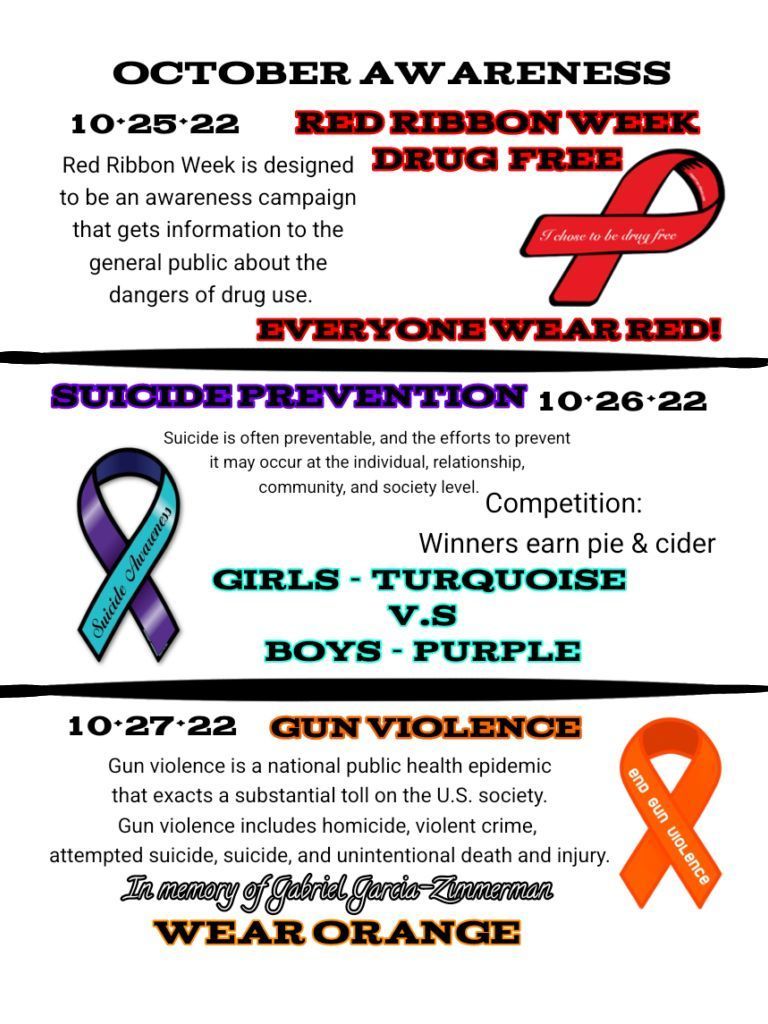 Good evening! Our football pink game is Friday!! Help us pink out the stands!!!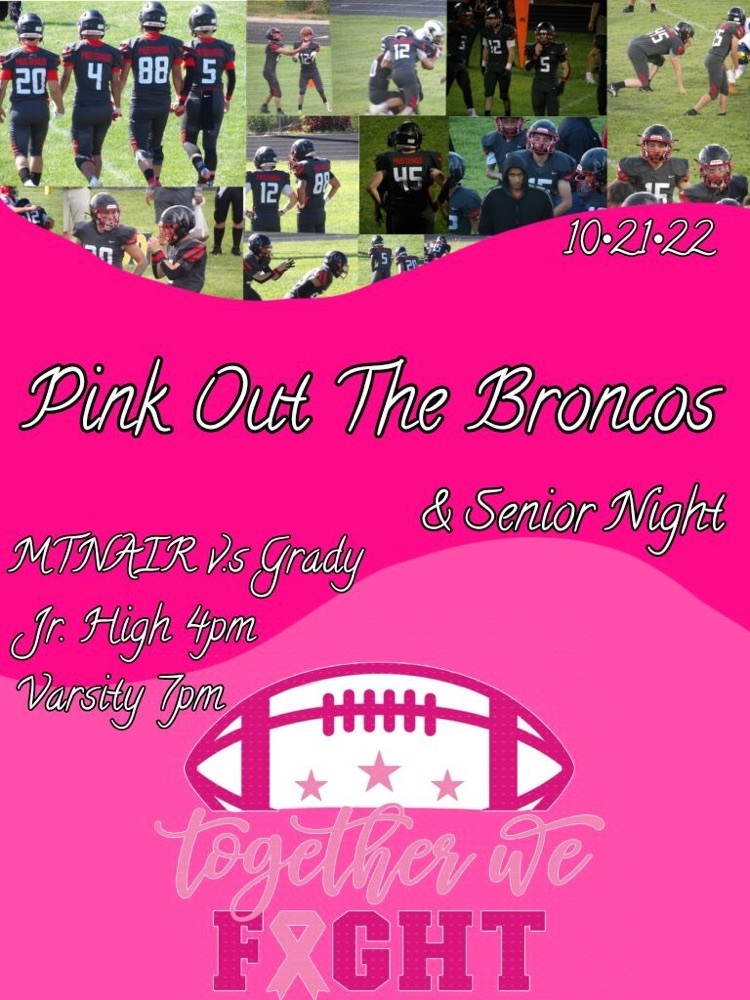 Here are our upcoming Awareness Days. 10/18/22 Pink Out Day 10/20/22 Class Competition Days Winning Class will get a Hot Chocolate/S'more Party. 6th/11th Grade Yellow 7th/10th Light Blue 8th/12th Red 9th Dark Blue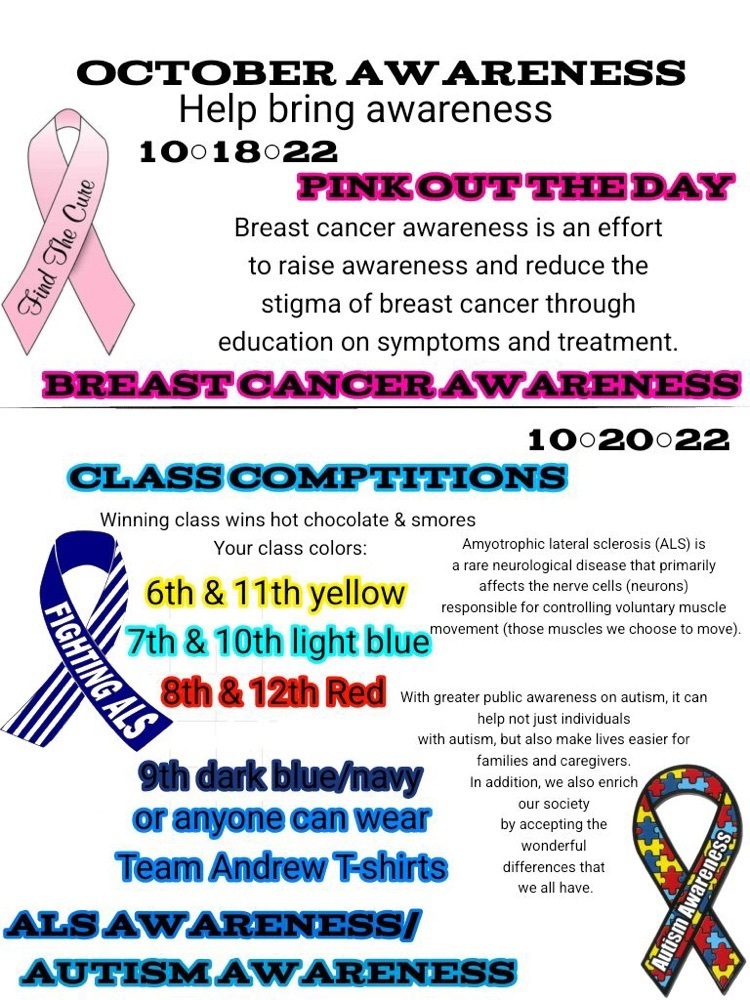 Good Evening. A memorial service will be held for Coach Stephen Bernal on Friday 10/14/22 at Mustang Stadium at 12:00 pm. Following the service, there will be a potluck lunch in the dome gym.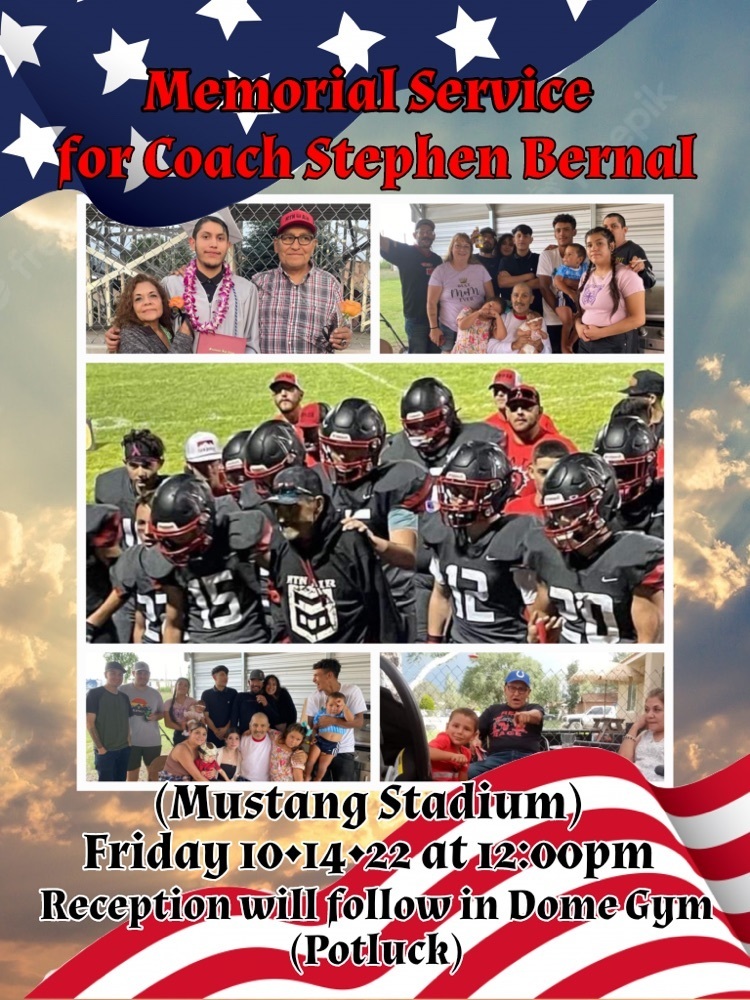 Tonight at 6pm we are hosting our monthly mental health series. Tonight's topic is BULLYING. Please join us tonight for invaluable information.
https://cookcenter.info/MtnairOct11

There will be NO SCHOOL on Thursday, October 13th. Our entire staff will be attending a conference in Albuquerque about Fentanyl. We at MPS recognize that there is a Fentanyl crisis in this State and it's very important to us that we know as much about it as possible. We appreciate your understanding. Students will not have to make up the day.

October is Awareness Month. Several days this month will be dedicated to different awareness campaigns. We will also give prizes for the most "decked" out individual on each day. Help us spread the word of awareness!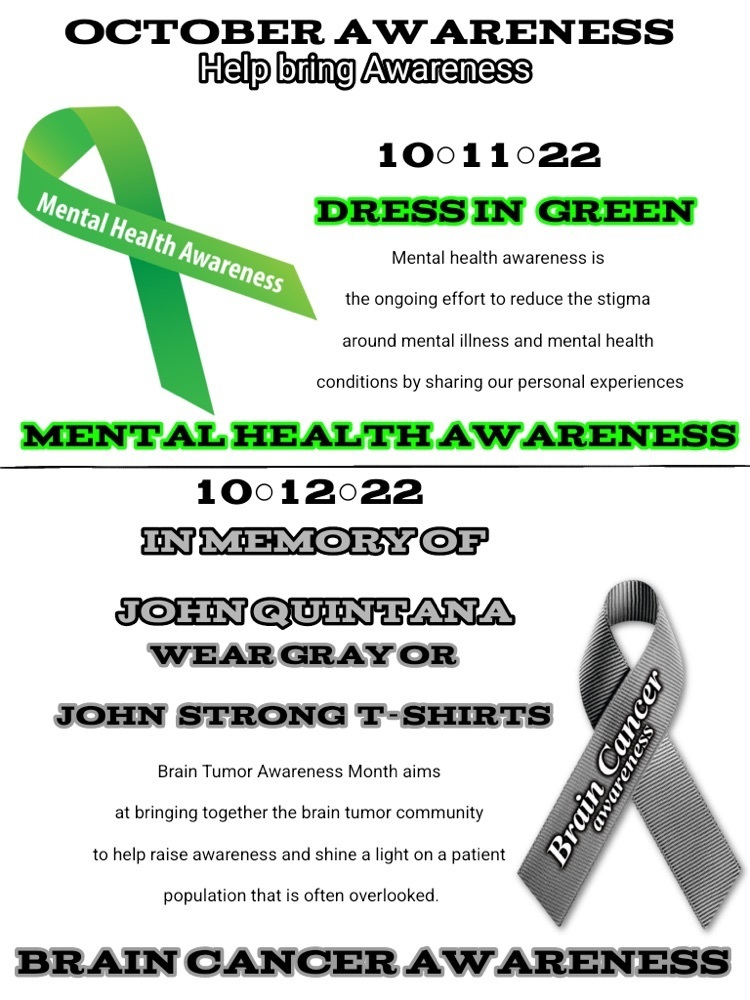 Just a reminder Homecoming Dance Tonight! Middle School Dance 6pm - 8pm at the Media Center. $5.00 a person. High School Dance 8pm - 11pm at the Media Center. $5.00 a person / $8.00 a couple.

Welcome to Fall! With Fall comes several childhood illnesses including seasonal allergies, flu, common cold and hand/foot and mouth disease. With all of these, it is extremely important that we return to frequent handwashing and disinfecting the classrooms on a regular basis. We are already seeing colds and a couple hand/foot and mouth cases in the lower grades. Good handwashing is the best preventative!